SiSH (She is So High) is a 3-unit synth-pop group; consisting of Kamishiro Sui, Kuonji Shizuka and Usuta Sumire from NANASTAR. The trio currently has 3 singles released in game.
Nanastar Sisters has a three-man high-fi unit formed by the selected members; Sumire Usata, Shizuka Kuonji and Sui Kamishiro.
From WITCH NUMBER 4's theme of "Digital Witches", SiSH's theme is to raise the image of ages a little, and to be familiar to us more than the existence like "The neat, clean girlfriend seen in the commuter bus".
Watch how your girlfriends are changing from now on!
☆Click on picture to access individual Idol Profiles☆
| Year | Name of Single | Album Name |
| --- | --- | --- |
| 2014 | AOZORA TRAIN | t7s longing for summer |
| 2015 | お願い☆My Boy | H-A-J-I-M-A-L-B-U-M-!! |
| 2016 | さよならレイニーレイディ | Are You Ready 7th-TYPES?? |
| 2018 | プレシャス・セトラ | 『THE STRAIGHT LIGHT』 |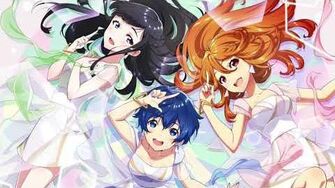 Community content is available under
CC-BY-SA
unless otherwise noted.