Le☆S☆Ca is a 3-unit hip hop group, consisting of Araki Rena, Nishizono Honoka and Uesugi U. Kyouko from Nanastar. The trio has currently has released 4 singles in the game. 
An official novel was released in two parts in Summer 2016. It depicts the beginning of Le☆S☆Ca, where the girls' friendship struggles before debut. The novels are illustrated by Yuichiro Niou, written by Kosei Style.
It's a threesome youth Idol Unit of a refreshed, fine carbonated system formed by the selected members from Nanastar Sisters, who are Kyoko, Rena and Honoka.
Each of them grew up in different places and the current environment is irreplaceable, with the theme of "The Days of Teenaged Sweet and Sour Youth," which runs around the school in the Idol club.
Please look forward to their growth and change, who are life-size high school students that youth is a little bitterly refreshing!
☆Click on picture to access individual Idol Profiles☆
| Year | Name of Single | Album Name |
| --- | --- | --- |
| 2015 | YELLOW / Behind Moon | YELLOW |
| 2016 | トワイライト / タンポポ | トワイライト |
| 2018 | ひまわりのストーリー | 『THE STRAIGHT LIGHT』 |
| 2019 | Honeybee (ミツバチ) / A Chick's Song (ひよこのうた) | Honeybee (ミツバチ) |
| 2020 | SUN SUN SUN | Le☆S☆Ca 1st MINI ALBUM「Le☆S☆Ca」 |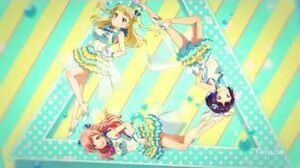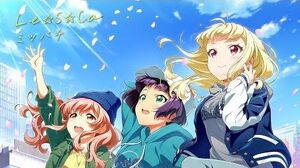 Community content is available under
CC-BY-SA
unless otherwise noted.