Ci+LUS is a 2-unit indie-jazz group, comprising of Tamasaka Makoto and Orisaka Ayumu from Nanastar. The duo currently has announced their debut single for release on April 25, 2018.
It's a two-person unit of Makoto and Ayumu who voluntarily started the activity from among Nanastar Sisters, went through an internal audition, and opened the road to a formal debut.
If NI+CORA is a captivating duet, Ci+LUS has acquired the individuality that only the two of them who live together are dainty and coquettish, while still leaving this morning. The theme is "The two are still in love, the scent of citrus".
Let's look forward to the future of the growth and desire of the two in the future!  
☆Click on picture to access individual Idol Profiles☆
Release Date
Song List
Album / Single Title
25-04-2018
1. シトラスは片想い

2. アイコトバ

シトラスは片想い
20-03-2019
1. TRICK

2. 空色スキップ

TRICK
When asked about their perception of the unit, Yamazaki (VA Makoto) and Tanaka (VA Ayumu) replied "while NI+CORA has a mature and assertive image, Ci+LUS is more 'youthful unrequited love'" 
Yamazaki (VA Makoto) said she had some dilemma while recording for Makoto's line in "Citrus Unrequited Love": "It's hard to sing as Makoto since she always felt like she's talking rather than singing. Moreover, because Ayumu has such a bright, happy voice, I thought that if I sang Makoto's line in the usual way, it will be staggered against her vocals. After consulting with the production, I decided to show her brighter side."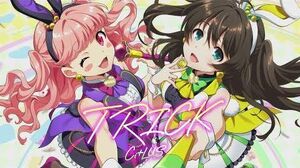 Community content is available under
CC-BY-SA
unless otherwise noted.