CASQUETTE'S is a 4-member electro jazz unit, formed by Kawasumi Sisala, Azami Miwako, Futagawa Mimi, and Ootori Chacha from Nanastar.
"CASQUETTE'S big debut is here. For the dazzling figures of these dancing maidens, you must not look away." 
The stage is set for the four "older charming sisters" of NANASTAR, please give your attention to CASQUETTE'S! Their theme is that of strength and charm, with smooth velvet jazz vocals and a fast vibrant beat. Let these sisters steal your heart with their dazzling maturity. 
☆Click on picture to access individual Idol Profiles☆
Year
Name of Single
Album Name
2018

Show Time

Masquarade Night

Show Time
2019
SCARLET
七花少女/CASQUETTE'S Split Single「マイ・グラデイション / SCARLET」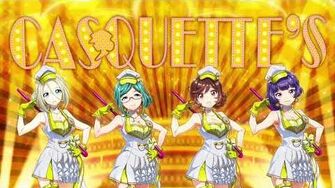 Community content is available under
CC-BY-SA
unless otherwise noted.