AXiS is a 6-member enemy unit consisting of Amagami Nero, Higa Aguri, Hourai Taki, Shima Sabina, Shishigome Oto and Tezuka Seneka. Their music genre is EDM. They've currently has 2 songs in game.
Background
Six girls with the same voices as SEVENTH SISTERS'members, gathered from six special economic districts outside of Tokyo-7th. 777☆SISTERS, who have finally begun to gain popularity after a long, strained journey, are now hunted down by this cold and relentless unit, whose purpose and past are yet to be unveiled.
Members
☆Click on picture to access individual Idol Profiles☆
Discography
Trivia
"AXiS" is a double play on words; first, AXiS (pronounced aku-shisu in Japanese) may be a reference to the group's nature, as aku in Japanese means evil or wicked, and shisu can be short for shisutaazu, the Japanese pronunciation of "sisters". Secondly, it is revealed that AXiS's true name is A・SIX, flipping the letters X and S.
The whereabouts of AXiS members after Episode 4.0 are unknown, although it is confirmed that all members are alive and each living separate lives.
From the jacket art for the AXiS arc OST titled "The Things she Left", is can be guessed that Nero may be studying anatomy, possibly to become a doctor.
Pictures
Videos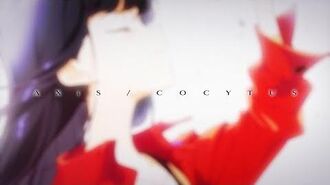 Community content is available under
CC-BY-SA
unless otherwise noted.